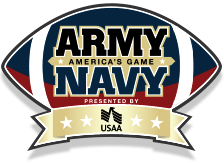 Navy leads the series: Navy 56 – Army 47 – Tied 7
Who:  All Annapolis alumni, friends, parent's club members, and football fans
What:  Watch Army vs. Navy football with other grads, families and the West Pointers.
When:  Saturday, December 8th. Kickoff at 3pm. Feel free to arrive early.
Where:  Taco Mac at The Prado. 5600 Roswell Rd, Atlanta, GA 30342.  Plenty of FREE parking is available. When you arrive, tell the hostess that you are affiliated with the Army/Navy game.
Why:  To watch Navy extend it win streak to eleven in a row.
Cost:  The format is now pay as you go in order to maximize participation by making the event affordable. Feel free to bring the whole family and friends. Our goal is to purchase $15/adult from the Taco Mac menu. This includes food, beverage, and tax, but does not include gratuity. So come on down and enjoy one or more of over 140 beers on tap. Again, you must tell the hostess that you are affiliated with the Army/Navy game.
Donations will be solicited to the John R. Petty, Sr. Foundation (a 501(c)3 organization) to benefit the SHARE Initiative at the Shepherd Center.  (SHARE: Shaping Hope and Recovery Excellence for Military Service Members.)
RSVP:  http://www.west-point.org/society/wps-atlanta/index.php?option=com_performs&formid=2 or http://new.evite.com/l/YD56C7VNX2
There is no upfront charge.  We need an accurate count for planning purposes.