West Point will host the Army-Navy Watch Party this year at Mutation Brewery.   Click on this link to register:

—————————————————————————————————————–
The October luncheon was at the Hobnob Restaurant (1221 Ashford Crossing, Dunwoody, GA  30346) near the Perimeter on Friday, October 20th.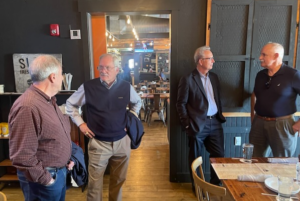 We have vacant board positions.   Does not require a lot of time, and you make new friends.  Any member interested, please contact dba@usnaaaa.com
—————————————————————————————————-
The May 5th Chapter Luncheon was at a new location: HOBNOB Neighborhood Tavern Dunwoody/Perimeter
Bill Donges gave the Atlanta alumni group a presentation about his recent visit to the yard in March 2023. Bill took 16 members of the Innovation Academy fencing team to Navy to receive lessons from Hall of Fame fencer Ed Donofrio 73 and to scrimmage the Navy men's and women's team. It was truly a wonderful experience for his team. At Navy the team received a presentation and discussion with 2nd classmen in the cyber security program, an admissions presentation, a yard tour and ate in King Hall one night with the Navy team. None of the team knew about the military before the team except Bill's granddaughter, Anna. After the 3 day visit 2 men and 1 woman expressed an interest in Navy and are planning to sign up for next year's summer camp. The team walked the streets in Annapolis and ate breakfast downtown. The team fenced in Dahlgren Hall on Saturday and the Alumni team fenced the Navy team on Sunday.
Bill mentioned that all the mids that met with his team were outstanding people. Very polite and intelligent. He was very impressed with the caliber of midshipmen there today. He pointed out a few differences…in King Hall there is a "grab and go" food service where you can pick up your food and eat in the Hall or take it back to your room. There are noon formations and march ins to eat but breakfasts and dinners seem to be optional…no formations and marching to the mess hall. There is also a nice coffee shop in the yard "1845 Coffee" were the officers and mids can get a latte before class. He also pointed out that dating other mids is allowed.
The mids Bill spoke with seemed very focused on their academics and quite mature about their service. It was a very eye opening visit for Bill's fencing team. Innovation Academy is a new STEM high school in Alpharetta, GA just north of Atlanta. His team has 77 members and is unofficially the largest fencing team in the US.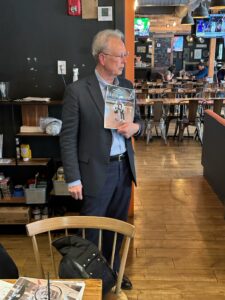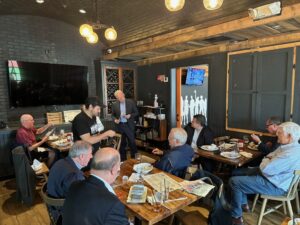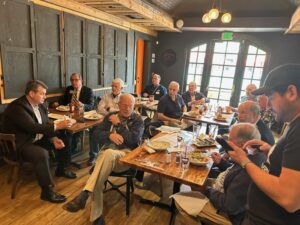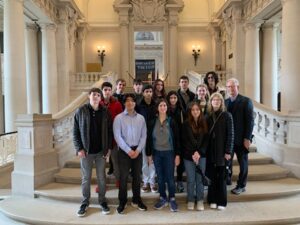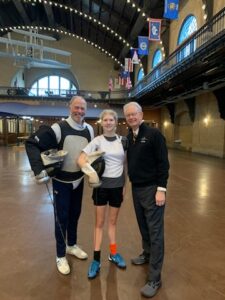 The February Luncheon was a good start to the new year.  Woodie Vaughan, '64 gave a very interesting presentation about his two expeditions to Mt. Everest, and some other exciting climbs, including one in Antarctica.  He brought two of the climbing boots he used.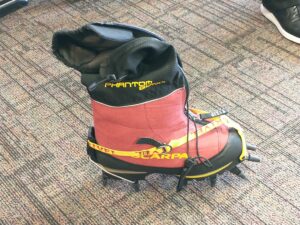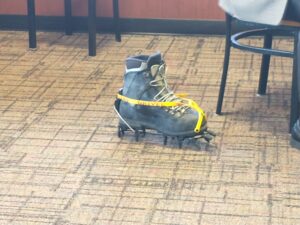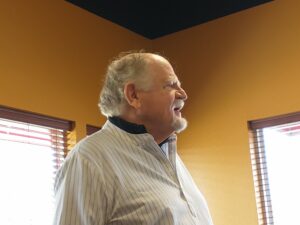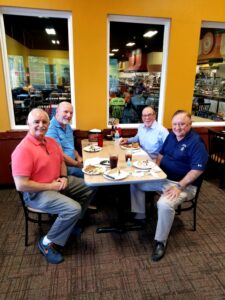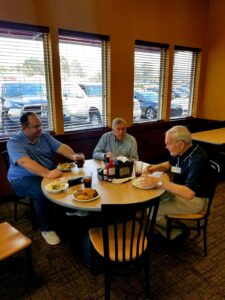 2023 DARK AGES PARTY — FEBRUARY 11th at "57th Fighter Group" was a huge success. 
Pictures: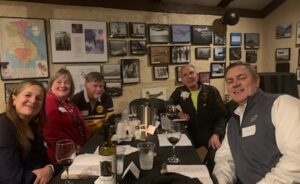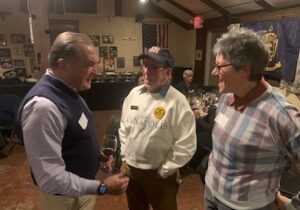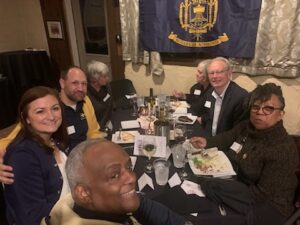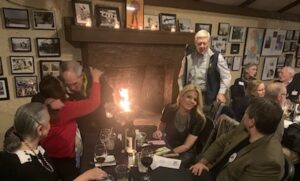 A good time was had by all.  President DJ introduced our new VP, Mike Leigh, '79 and our new Secretary John "Wiz" Withers, '79.  The ladies were given Valentine roses.  Pete Knoetgen worked hard to make it all happen.  Thanks, Pete.
———————————————————————————————————————————————
From the Atlanta Journal Constitution
Ken Niumatalolo set the bar high for what a military academy could still accomplish in major college football.
The past three seasons at Navy weren't up to that standard.
Niumatalolo is out after 15 seasons at the helm. The academy announced Sunday that he would not return — a day after the Midshipmen lost to Army in double overtime and finished 4-8 for the second straight year. Niumatalolo is the winningest coach in school history at 109-83, but after going 11-2 in 2019, Navy hasn't finished above .500 since.
"Our sincerest gratitude to Coach Ken for what has been a distinguished and impactful legacy at the Naval Academy," athletic director Chet Gladchuk said in a statement.
"Navy football flourished for many years under his leadership.
He will forever be remembered for the influence he has had on the lives of those who played for him."
Defensive coordinator Brian Newberry was named interim coach.
---
---
Marilyn McCallum   1938-2022
We are very sad to report that Marilyn McCallum (widow of Carl McCallum, '60) passed away peacefully in her home on Sunday, November 6th.  Carl was the instigator of the original Lobsterfest, and Marilyn was totally involved in that function for many years.  She was the mother of four sons each a year apart.  We are very grateful for all that Marilyn and Carl did for USNAAAA.
————————————————————————————————–
The Lobsterfest has been our most popular event for decades, and we look forward to being able to resume.  Also, it is not too early to volunteer.
___________________________________________________________
Former Chapter President Ed Brownlee and his family relocated to Jacksonville, FL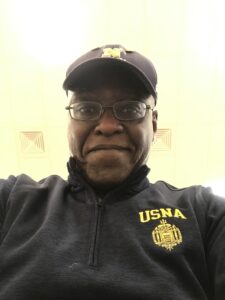 Ed tirelessly devoted himself to the USNAAA Atlanta Chapter as Chapter President and Board Member for over 15 years. I want to personally thank Ed for his selfless dedication, helping me and the many countless hours he spent ensuring the success of this chapter. For the past three years (even when he was not serving as President) he ran our Facebook site and always kept the chapter informed.  We will sorely miss Ed and look forward to him coming back visiting us on occasion.
Prior to the pandemic:
The 2020 Dark Ages Party was an enjoyable success on February 8th at the 57th Fighter Group Restaurant.
Several Atlanta Chapter Officer positions are in need of volunteers.  If you are interested, please email us:  dba@usnaaaa.com